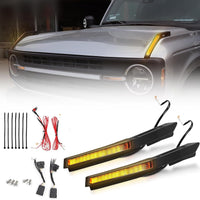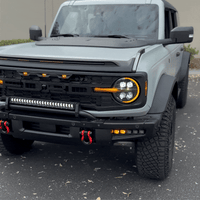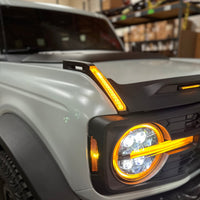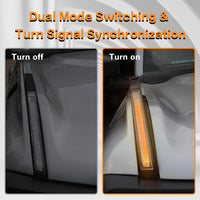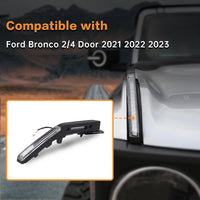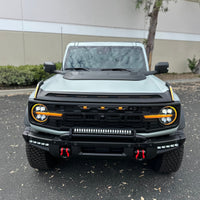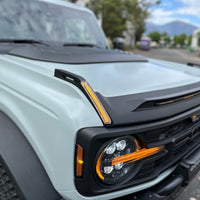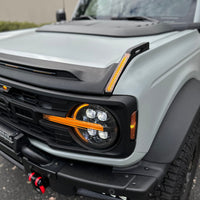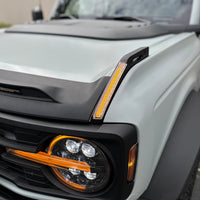 2021+ Ford Bronco Hood Trail Sight Trim Amber Lights (2 Piece) - Fits 2 & 4 Door
Description
This item is currently back ordered, and all new orders will be ready to ship on November 4th, 2023.

Introducing the RPM Bronco 2021+ Hood Trail Sight Trim Lights – the perfect enhancement for Bronco enthusiasts looking to upgrade their vehicle's style, practicality, and lighting.
Designed for a seamless fit on all 2021+ Bronco models( Does not fit Bronco Sport), these LED trail sight lights combine both aesthetics and functionality in a sleek package.
Seamless Compatibility: Designed to effortlessly integrate with all Bronco models from 2021 onwards, these LED trail sight lights take inspiration from the iconic original hood handle, adding a touch of heritage to your vehicle. Stand out among other Bronco owners with this exclusive addition that brings a unique flair to your Bronco's appearance.
Dual Modes for Convenience: Experience versatility with the RPM Bronco Hood Trail Sight Trim Lights. The first mode synchronizes with your vehicle's headlight or side light system, ensuring consistent illumination both on and off the road. The second mode adds a smart touch – activating the light when you unlock your Bronco, providing practicality and a visual spectacle.
Integrated Turn Signal Function: Enhance your driving experience with seamless turn signal integration. The Hood Trail Sight Trim Lights sync with your Bronco's turn signals, effectively communicating your intended direction to other drivers, and boosting safety and communication on the road.
Durable Elegance: Constructed from advanced aluminum alloy and treated with anti-rust powder coating, the Hood Sight Trim Lights offer durability against high temperatures, corrosion, and rough conditions. Built to withstand your off-road adventures and daily drives, this addition ensures longevity.
Installation: This installation process requires no drilling or complex modifications. Our inclusive installation guide ensures a smooth setup. For professional assistance, our team is available to support you through direct consultations.
Elevate your Bronco's style and functionality with the RPM Bronco 2021+ Hood Trail Sight Trim Lights. Join fellow Bronco enthusiasts in showcasing excellence, and let your vehicle shine as a testament to your love for adventure and innovation.
Installation
This product comes with installation instructions and should take roughly 1 hour to install.
Compatibility
This works with 2 & 4 Ford Bronco's (Does not fit Bronco Sport)
Warranty
This product features a lifetime warranty*