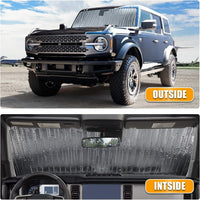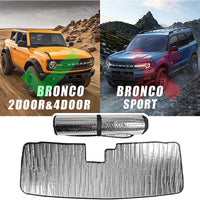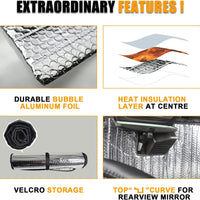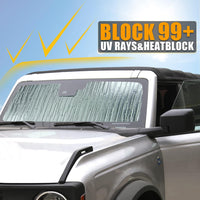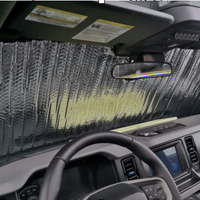 2021+ Ford Bronco Front Window Sunshade - Fits 2 & 4 Door
Description
RPM Bronco 2021+ Front Window Sunshade – The Perfect Fit for Your Ford Bronco!
Shield your Bronco's interior from the sun's relentless rays with our RPM Bronco Front Window Sunshade. Specially designed for 2021+ Ford Bronco models, including 2 and 4-door variants, this sunshade has a roll-up design opposed to our foldable option.
Key Features:
Customized Fit: Precision-cut to match the contours of your Bronco's windshield, ensuring optimal coverage and sun protection.

Effortless Roll-Up: Experience quick and easy deployment – roll up and secure the sunshade when not in use for a tidy look.

Cooler Interiors: Crafted from heat-resistant materials, our sunshade reflects sunlight, keeping your Bronco cabin cooler and more comfortable.

Reduced Glare: Enjoy improved visibility and safer driving by minimizing glare from harsh sunlight.

Durable Build: Built to last, this sunshade is designed for daily use and long-lasting performance.
Elevate your driving experience with the RPM Bronco 2021+ Front Window Sunshade. Order now and stay cool and stylish on your journeys!
Warranty
This Product Features Lifetime Warranty*