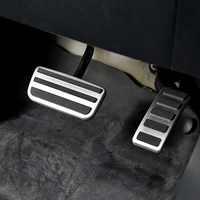 2021+ Ford Bronco Accelerator Brake Pedal Cover - Fits 2 & 4 Door
Description
2021+ Ford Bronco Accelerator Brake Pedal Cover - Fits 2 & 4 Door (Not Bronco Sport or Manual Transmission Models
These foot pedals are designed to fit the Ford Bronco model years 2021 and 2022 with 2 or 4 doors. They are made from a combination of high-strength aluminum alloy and high-quality rubber materials. The brake and gas pedal covers included feature a protruding rubber strip on the surface to increase the contact area and friction between your shoes and the pedals, ensuring a secure grip even on rainy days or while wearing flat shoes. These pedal covers are easy to install and do not require drilling on the original pedals. 
The structure of these car pedals for the Bronco features a three-layer design. The underside is edged with high-quality rubber material to prevent slipping, the middle layer is made of heavy aluminum alloy for added strength and aesthetic appeal, and the top layer features a rubber strip with protrusion to increase friction. These pedals allow you to easily master the controls of your vehicle. Please note that these pedals are not compatible with the Bronco Sport model or manual transmission vehicles.
Warranty
This Product Features a Lifetime Warranty*.