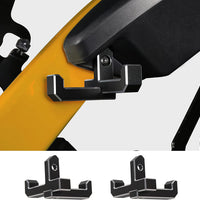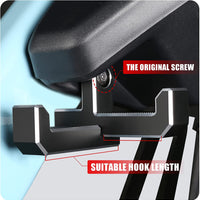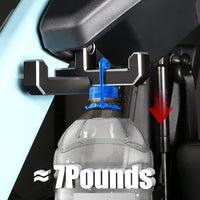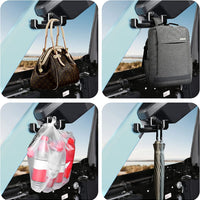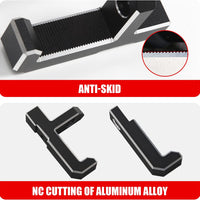 2021+ Ford Bronco Aluminum Trunk Grocery Bag Hook / Hanger (Set of 2) - Fits 4 Door Only
Description
Comes as a Set of 2. One Hanger for Each Side.
2021+ Ford Bronco Aluminum Trunk Grocery Bag Hook/Hanger - Fits 4 Door Only! Keep your trunk organized and clutter-free with this convenient accessory designed specifically for the Ford Bronco 2021+ models with 4 doors (not suitable for Bronco Sport).
Crafted from premium aluminum alloy, our grocery bag hooks are built to withstand the test of time. The durable material ensures high load-bearing capacity, allowing you to hang multiple bags without worry. 
The design of our grocery bag hooks is both practical and versatile. With the elongated arm, you can easily hang bags of various sizes, accommodating even multiple bags simultaneously.
Installation is easy, taking only 1 minute of your time to install. Very few parts are required, making it hassle-free to set up and enjoy the benefits of a well-organized trunk. Simply attach the hook securely in place, and you're ready to go!
The RPM Ford 2021+ Ford Bronco Aluminum Trunk Grocery Bag Hook/Hanger is the perfect solution for anyone who wants to keep their shopping bags securely hung in the trunk. Enjoy the convenience of a clutter-free interior while ensuring your groceries stay in place during transit. Don't settle for a disorganized mess – invest in our grocery bag hooks today and experience the difference!
Compatibility
This only fits 4-Door Broncos. It does not fit 2-Door Broncos or Bronco Sport
Warranty
This Product Features a Lifetime Warranty*.