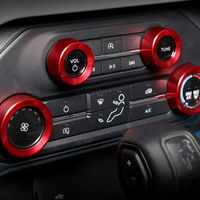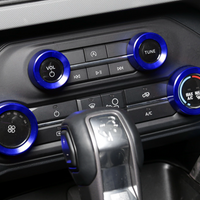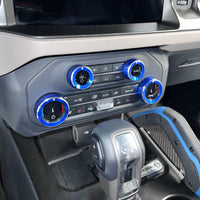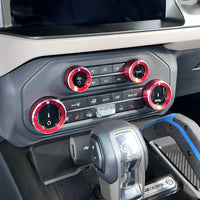 2021+ Ford Bronco Central Panel Button Cover (RED or BLUE)- Fits 2 & 4 Door
Description
Dress up your Ford Bronco at an affordable price! Our AC Switch Radio Button Knobs Trim Cover set is specifically designed to fit the 2021-2022 Ford Bronco 2/4 doors, and is incredibly easy to install. In just 3 minutes, you can add a pop of color to your interior without the need for drilling or cutting. The factory model production data is consistent, ensuring a perfect fit and no adaptation issues.
Made from premium automotive-grade aluminum alloy with anodized coating and CNC processing, these knob ring covers are not only durable and lightweight but also feature an exquisite surface that is resistant to corrosion and rust. The trim kit includes 2 air conditioning switch covers and 2 audio switch covers, with a total of 4 units that will give your Bronco interior a more cohesive look.
Our knob ring covers not only add a stylish and unique decorative touch to your Bronco, but they also provide protection for your original switch knobs from scratches and abrasions. You'll be sure to get compliments on the new "flare" you've added to your interior, and will enjoy an enhanced driving experience.
Warranty
This Product Features a Lifetime Warranty*.