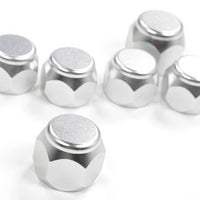 2021+ Ford Bronco Control Arm Screw Protector - Fits 2 & 4 Door
Description
Front and/or Rear Options Available
The Ford Bronco Rear Corner Cover is a custom-cut accessory specifically designed for the 2021+ Ford Bronco 2 & 4 door models. With a matte black finish, it fits perfectly over the front and rear corner contours for maximum accuracy and an OEM appearance. The premium rubber material is durable, abrasion-resistant, anti-aging, flexible, and bendable, and is attached with a strong adhesive.
This corner cover effectively protects the edge from bump damage and prevents scratches and paint damage when stopping or parking, ensuring a great driving experience. The high-quality tape on the back is weather-resistant and car wash-safe, making it a must-have for protecting the front and rear corner curves.
Installing the cover takes only 5 minutes and requires no modifications. Simply clean the surface before installation, and press it for several minutes after heating to extend its service life. The cover can be easily removed without damaging the car or leaving residue or stains.
Note: Avoid washing the truck for two days after installation.
Warranty
This Product Features a Lifetime Warranty*.