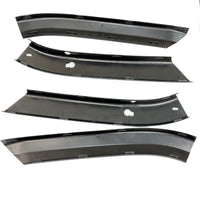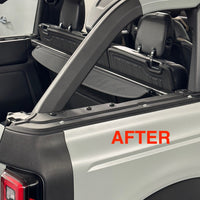 2021+ Ford Bronco D Pillar Cover (Full Cover) - Fits 4 Door Only
Description
This RPM Bronco 4pc D-Pillar Roll Bar Protective Cover Kit provides complete coverage for your Bronco's OEM roll bar. Made from sturdy, high-quality ABS plastic, this kit protects against damage caused by the frame of the soft top and improper removal or installation.
SOFT TOP FUNCTIONING UNAFFECTED The RPM Ford Roll Bar Protection kit fits perfectly over the rear roll bar and won't impact the operation of your soft top. You can easily open, close, and remove the top, just as before.
SIMPLE INSTALLATION Installing the roll bar protective cover kit is easy and requires no permanent modifications. The panels come in two pieces per side for easy handling, and feature built-in 3M adhesive strips and an adhesive promoter for a secure hold. The panels fully cover the D pillar to prevent scratches along its entire length.
Compatibility
Fits 4 Door Broncos Only. Does not fit Raptor models, 2-door modles, or Bronco Sport
Warranty
This Product Features a Lifetime Warranty*.