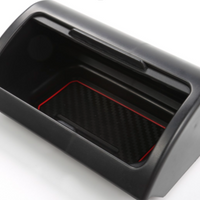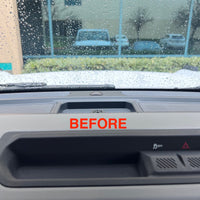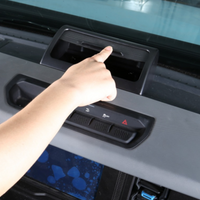 2021+ Ford Bronco Dashboard Organizer - Fits 2 & 4 Door
Description
2021+ Ford Bronco Dashboard Organizer
Note: Does not fit with B&O sound system found on the LUX package. Please assure your dashboard has no accessories or 12v power by comparing your Bronco to the 4th Image labeled "Before".
The Accordion Style Dash Organizer is designed to provide a convenient spot to securely store everyday items such as sunglasses, transponders, keys, etc. The smooth operating accordion-style door keeps your valuables out of sight but within easy reach. The Dash Organizer is designed with convenience in mind. Easily installed with a single included bolt, the unit fits nicely into the center recess of the dash and holds your items securely. It is laser measured to ensure precise fitment using the factory mounting location on the dash.
The Organizer mounts securely to the OEM accessory mounting hole in the dash with the included hardware. It can be easily removed if needed. The organizer is made from high-quality materials, built to last, and designed to match the style of your 2021+ Ford Bronco, with a sleek black finish that complements the interior of the vehicle.
Additionally, the Organizer features a built-in phone holder that is designed to securely hold your phone in place while you're on the road. The holder is adjustable and can accommodate a wide range of phone sizes.
In summary, The Accordion Style Dash Organizer for Ford Bronco 2021+ is a durable, versatile and stylish solution for securely holding your phone, sunglasses, transponders, and other items on your dash. This organizer is easy to install, and remove and perfect fit to the dash without any need to modify, it's a great add-on to your Bronco.
Warranty
This Product Features a Lifetime Warranty*.