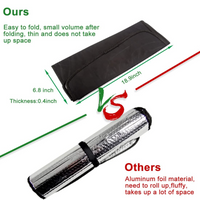 2021+ Ford Bronco Front Window Sunshade (Foldable) - Fits 2 & 4 Door
Description
2021+ Ford Bronco Front Window Sunshade (Foldable)
Does not fit Ford Bronco Sport Model.
The foldable sunshade is designed specifically for the Ford Bronco 2021 and 2022 models (2-door and 4-door). It is easy to use and install, with a customized size that fits perfectly on the front windshield. This Window Shade fits perfectly between the front seats and the center console.
The sunshade effectively blocks sunlight and UV rays, protecting the interior of your car from damage and reducing the cracking and fading of accessories. It also helps to lower the temperature inside the car during hot summer days. The sunshade is easy to use, simply expand and place it flat on the windshield, and easy to store when not in use as it folds up small and flat. 
Warranty
This Product Features a Lifetime Warranty*.