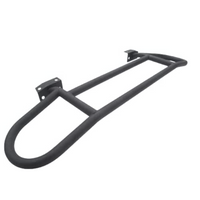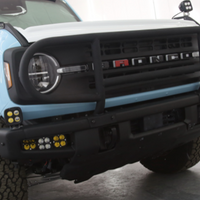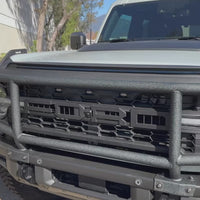 2021+ Ford Bronco Oversized Grille Bull Bar - Fits 2 & 4 Door
Description
RPM Ford 2021+ Ford Bronco Oversized Bull Bar, is the perfect addition to your 2021-2023 Bronco 2-door or 4-door. This bull bar is professionally customized to ensure a perfect adaptation to your Bronco, providing quality assurance that you can rely on.
With its easy installation process, you can install this bull bar with the original screws and without drilling or modification, using the provided installation instructions and all necessary accessories. Made from high-quality carbon steel material and with a surface matte painting process, this bull bar is anti-rust, ensuring that it will protect your car for years to come.
Designed with protection in mind, this bull bar will protect your Bronco's headlights from any damage that may occur on your next adventure. Whether you're off-roading or driving on rugged terrain, this bull bar will help protect the front of your Bronco from any potential hazards.
At RPM Ford, we stand behind our products and offer a warranty to ensure customer satisfaction. If the product is broken during shipping, we can arrange a new one for free. Additionally, any problems can be replaced within 14 days of normal use, providing you with the peace of mind that you deserve.
Please note that this bull bar is designed specifically for the 2021-2023 Bronco 2-door and 4-door, and does NOT fit the Bronco Sport. Upgrade your Bronco with the RPM Ford 2021+ Ford Bronco Grille Bull Bar with Light Bracket today!
Compatibility
This Bull Bar is designed to fit perfectly with the 2021 and 2022 Ford Bronco 2/4 Door models that have the factory heavy-duty modular steel front bumper (Image provided at the end of product images) . Please note that this bar is NOT compatible with Ford Bronco Sport.
Warranty
All of our Bull Bars feature a lifetime warranty, this excludes excessive wear, physical damage, extensive use. These Bull bars are designed with the intended use for esthetic use, along with light holding compatibility. For this reason, Towing the car or causing damage to the bull bar in a similar fashion, will result in a voided warranty.
Shipping
This Product is an Oversized Item. The shipping cost is as follows: Contiguous USA - $50, Non Contiguous - $100, Canada - $100, Australia - $400, Rest of the World - $200