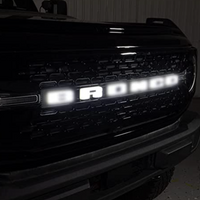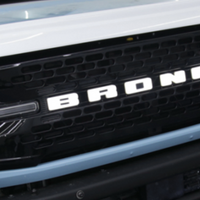 2021+ Ford Bronco LED Bronco Letter (All White) - Fits 2 & 4 Door
Description
Upgrade the style of your 2021+ Ford Bronco with the LED Bronco Letter. These illuminated grille letters are designed to fit seamlessly into the grille of both 2 and 4-door models, adding a custom touch to your vehicle. The bright LED lights provide a stylish accent, illuminating the all-white design for a sleek look.
Crafted from weather-resistant ABS plastic, the grille letters are built to last and provide superior front-end protection against scratches and impacts. The white illumination perfectly outlines the white letters for a premium appearance.
Easy to install, the LED Bronco Grille Letters come with an OEM-style pin design for secure attachment and a plug-and-play wiring harness for hassle-free installation. The waterproof wiring connectors and wiring harness allow for an effortless integration with the vehicle's electrical system, or auxiliary switch.
This kit includes 1 grille letter set and 1 plug and play wiring harness. It is specifically designed for Ford Bronco models from 2021-2022+ (excluding the Sport model). Upgrade your vehicle with the high-quality, gloss white LED Bronco Letter for a custom look that is both stylish and practical.
Installation
Installation is simple and this product features installation instructions and everything needed.
Compatibility
Compatible with all Bronco Front Grille with Existing Bronco Letters.
Warranty
This Product Features a Lifetime Warranty*.