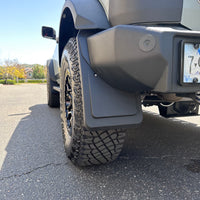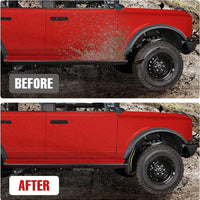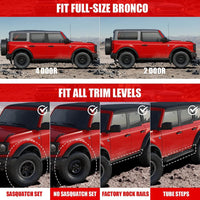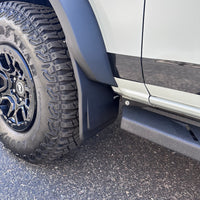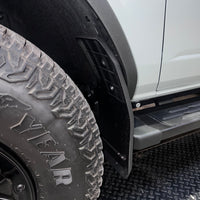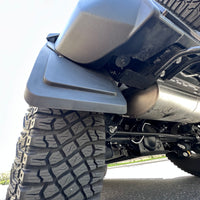 2021+ Ford Bronco Mudflaps - Fits 2 & 4 Door
Description
 2021+ Ford Bronco Mudflaps Without Logo - Fits 2 & 4 Door
The Mud Guards are specially designed for the Ford Bronco 2021, 2022, and 2023 model years. They are easy to install without any modifications and protect your paint while adding a nice touch to your vehicle. Not suitable for the Bronco Sport.
These mudguards fit perfectly on your Ford Bronco and don't require drilling or sticking. They keep your car's body clean by preventing mud from splashing on the sides, and they also protect your paint from damage caused by sand and rocks kicked up by your tires.
The sturdy design of these mud flaps allows them to fit snugly against your fender and stay in place even during long drives. They are the best solution to keep your vehicle free of snow, salt, sand, rocks, and other debris. They won't add drag or reduce range, so you can take them on all your road trips and adventures.
Made of premium-grade flexible rubber, these mud flaps are durable and can withstand harsh road hazards. They come with a tool kit for easy installation, saving you from the cost of an expensive paint job.
You'll receive 4 mud flaps and all the necessary tools, along with helpful installation instructions in the product.
Compatibility
Fits Ford Bronco:

All Trims Levels of Ford Bronco, except for Bronco Sport.
Warranty
This Product Features a Lifetime Warranty*.