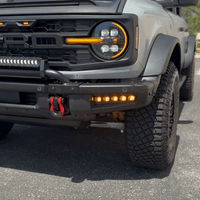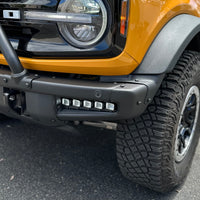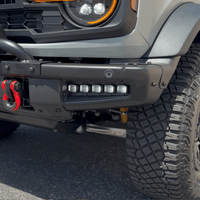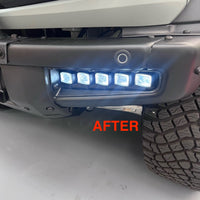 2021+ Ford Bronco Pocket Fog Lights (5 LED) - Fits 2 & 4 Door
Description
2021+ Ford Bronco 5-LED Pocket Fog Lights are designed to fit both 2 and 4-door models. (Totally Plug and Play / No wire splicing or cutting required). Does not Fit Bronco Sport 
Functions: 
These upgraded foglights function as Fog lights for increased visibility as well as turn signals. This means they provide greater lighting to the road or trail in front of you, as well as, provide turn signal indicators to other drivers on the road. The LEDs also feature a sequential Amber LED sequence when your turn signals are on.
This kit provides road-legal fog lights and powerful offroad lighting, making it a perfect addition to your Bronco for any situation. With easy bolt-on fitment using OEM bolts in the factory bumper openings, this kit is the ultimate solution for your Bronco's lighting needs. The 5 LEDs provide much better Visibility whether you are driving at night or on the trails.
Please Note: The fog lights and amber turn signal only function when the headlights are on. When your headlights are in Auto, they should turn on at night or in dark areas.
Installation Overview: (Instructions provided with the product).
Installation is very simple, remove the 4 OEM bolts and replace them with your new upgraded fog lights. Next, run your
Plug and Play wiring harness up to the headlights and connect it to the lights. This product does not require splicing any wires and is all plug-and-play. Upgrade your Bronco's lighting today with this 5-LED Pocket Kit!
Compatibility
Only fits the Ford Bronco Steel Bumper, as shown in image.n
Warranty
This Product Features a Lifetime Warranty*.