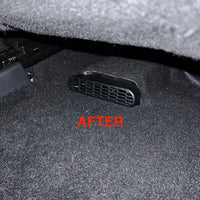 2021+ Ford Bronco Under Seat Air Vent Cover (Set of Two)
Description
Many of our customers have asked us to make this product as items in the back seat have slid into their air vents under their front seats. Once inside the objects slide around and the noise is annoying not to mention they may have something lodged inside that will be very hard to get out and or can obstruct the airflow. Our Air Vent Covers prevent this from happening.
Ford Bronco, like many cars, has air vents under both the driver and passenger side front seats, but Ford makes them without a cover. In addition, debris that is left on the front floor mats can work its way back under the front seats and become lodged in the vents.
Our Air Vent Covers have been custom designed to fit the Ford Bronco's under-seat air vent precisely, and at the same time, allow airflow to occur seamlessly.
You get 1 pair, one for each side, and they just peel and stick. No screws, nothing to drill, just place them down over the vent.
Warranty
This Product Features a Lifetime Warranty*.