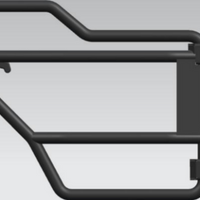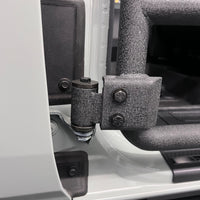 2021+ Ford Bronco Tube door - Fits 4 Door
Description
Introducing the RPM Ford Bronco Tube Doors - the ultimate upgrade for off-road enthusiasts who crave the thrill of the open-air driving experience without sacrificing safety and protection. These tube doors are designed to fit 2021+ Ford Broncos and are available in pairs for both 2-door and 4-door models.
Crafted from tough 1-7/8-inch OD tubular steel, these doors are built to withstand the toughest trails and harshest environments. The fully-welded construction ensures maximum strength and durability, so you can focus on the adventure ahead without worrying about your doors holding up.
What's more, each door is fitted with a precision rotary latching mechanism that ensures smooth, secure, and rattle-free operation. Whether you're cruising through the desert or crawling over rocky terrain, these doors will provide the protection you need and the style you want.
So why wait? Upgrade your Ford Bronco with RPM Offroad Tube Doors and experience the ultimate off-road driving experience like never before.
Warranty
This Product Features a Lifetime Warranty*.
Shipping
Shipping is as Follows: California - $50, Contiguous USA - $75, Non Contiguous - $200, Canada - $200, Australia - $500, Rest of the World - $400