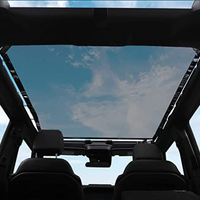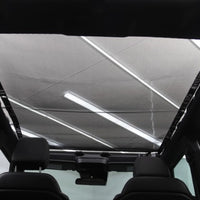 2021+ Ford Bronco Roof Shade Mesh - Fits 4 Door
Description
This is a custom mesh sun shade top that is compatible with the 2021 and 2022 Ford Bronco 4-door models. It is easy to install and requires no tools or modifications to the vehicle, installing in just a few minutes. The shade attaches to the front and back of the vehicle to keep it in place and is compatible with soft tops.
It blocks approximately 90% of the sun's light to cool the temperature inside the vehicle and protect the interior and passengers from UV damage. The mesh material is made of special polyester, breathable, rugged, and durable, with double-sewn edges and metal grommets. The package includes the mesh sun shade top, bungee cords, and mounting hardware accessories
Warranty
This Product Features a Lifetime Warranty*.