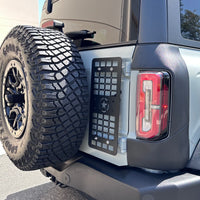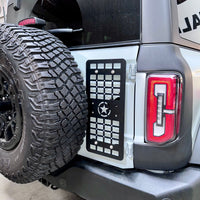 2021+ Ford Bronco Tailgate Molle Panel - Fits 2 & 4 Door
Description
This item is currently back ordered, and all new orders will be ready to ship on November 4th, 2023.

The 2021+ Ford Bronco Tailgate Molle Panel is a premium accessory designed to enhance the functionality and appearance of your vehicle. This product is made from high-quality laser-cut stainless steel, ensuring durability and longevity. The rough finish in satin black is powder coated to provide a rugged look that complements the aesthetics of your Ford Bronco.
The Tailgate Molle Panel features a modular design with a series of webbing straps and mounting points, allowing you to customize the panel to your specific needs. You can easily attach a variety of items such as first aid kits, tools, camping gear, and jerry cans, providing you with convenient storage solutions for your outdoor adventures.
Installation is straightforward and can be completed in just 5 minutes by following the installation instructions. The Tailgate Molle Panel is designed to fit perfectly onto your Ford Bronco's tailgate, ensuring a seamless integration that looks like it came straight from the factory.
With the 2021+ Ford Bronco Tailgate Molle Panel, you can maximize the storage capacity of your vehicle while maintaining a sleek and stylish appearance. This product is the perfect addition for any outdoor enthusiast who values functionality, durability, and aesthetics.
Warranty
This Product Features a Lifetime Warranty*.