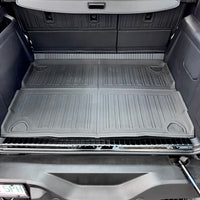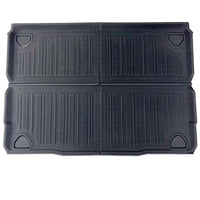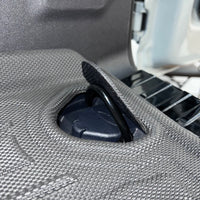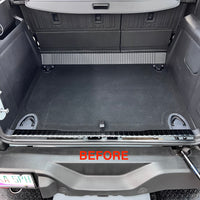 2021+ Ford Bronco 3D Trunk Mats - Fits 4 Door
Description
Introducing our 2021+ Ford Bronco 3D Trunk Mats, designed to fit the 4-Door version of the vehicle with precision and provide maximum protection and durability.
Our custom-made mats are expertly crafted from high-quality TPE, a non-toxic and eco-friendly material that ensures unparalleled strength and durability. The whole shape technology employed in their creation makes them capable of withstanding even the toughest wear and tear.
With a matte black surface and a special groove design, these mats are easy to install and will remain securely in place, providing seamless edge-to-edge protection for your Bronco's trunk. The raised side walls and non-skid bottom ensure that any spills or messes are contained within the mat.
Our 3D Trunk Mats also boast a waterproof and stain-resistant surface that makes cleaning a breeze. Simply wipe them down with a damp towel or hose them off directly to maintain their pristine appearance.
We take pride in our product and its compatibility with the 2021-2023 4-Door version of the Ford Bronco. However, it is important to note that our mats are not suitable for the 2-Door version or the Sport model.
Invest in the protection of your Ford Bronco's trunk with our 3D Trunk Mats. Enjoy a perfect fit, maximum accuracy, and the convenience of easy cleaning while keeping your vehicle's interior looking brand new.
Warranty
This Product Features a Lifetime Warranty*.