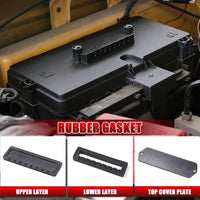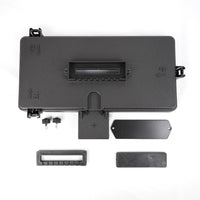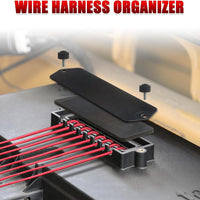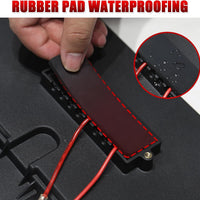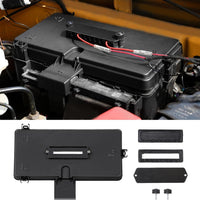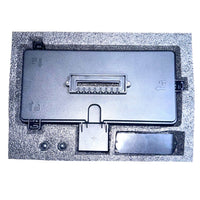 2021+ Ford Bronco Wiring Fuse Box Cover / Waterproof - Fits 2 & 4 Door
Description
2021+ Ford Bronco Wiring Fuse Box Cover - a great solution for enhancing the functionality and aesthetics of your vehicle's electrical system. Designed to meet the demands of off-road enthusiasts, this fuse box features a rubber seal that surrounds the wires to prevent water from accessing.
Waterproof and Dustproof Defense: Take on the most challenging terrains with confidence, knowing that your vehicle's fuses are shielded from water and dust. The RPM Bronco Fuse Box Cover is meticulously engineered to create an impenetrable barrier against the elements, providing peace of mind whether you're exploring trails or navigating city streets.
Streamlined Cable Management: Bid farewell to the chaos of tangled wires and cables. Our fuse box cover comes equipped with a built-in wire harness organizer, turning cable management into a breeze. Keep your wires neatly organized and readily accessible, ensuring smooth installations, upgrades, and modifications without the frustration of untangling knotted cables.
Effortless Installation: Leave the complicated installations in the rearview mirror. Our user-friendly design guarantees a quick and straightforward installation process that takes mere minutes. Designed with DIY enthusiasts in mind, the RPM Bronco Fuse Box Cover seamlessly integrates into the fuse box, saving you time and sparing you from the headache of complex setups.
Unparalleled Practicality: Tackling DIY headlight projects and vehicle modifications has never been easier. With our fuse box cover, you gain a practical and efficient solution for organizing wire harnesses.
When it comes to safeguarding your Ford Bronco's electrical components, organizing wire harnesses, and adding a touch of sophistication to your vehicle's interior, the RPM Bronco 2021+ Ford Bronco Wiring Fuse Box Cover stands in a class of its own. Embrace enhanced functionality, practical convenience, and precise design – elevate your driving experience today.