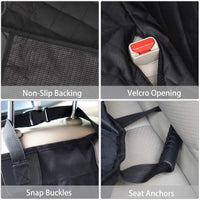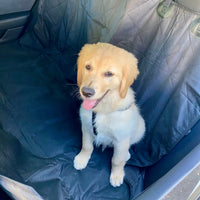 2021+ Ford Bronco - Backseat Pet Cover with Leash - Fits 2 & 4 Door
Description
This backseat pet cover is perfect for all Broncos. 
This is not just a backseat seat cover it also covers up the back of the front seats when used in Hammock mode, and you can use it as a rear luggage area cover as shown in our last photo.
Please watch our demo video to understand how versatile this is and read on.
Protect your Bronco's backseat and front seats from getting scratched and stained.  The base of our backseat cover is soft rubbery nonslip material and it is 100% waterproof with 4 layers to protect your seats.  The back seat resists moving when your pet jumps and slides around and our base also has seat anchors that hold it in place as well.  
FEATURES:
Full Backseat Coverage & Hammock Mode: This seat cover is easily convertible from simple seat cover mode to hammock style for front seat protection on the seatbacks.

The leash is included to connect your dog's collar to the seatbelt buckle.

Designed for additional passengers with seat belt access for them and for the included leash.

Flip in over the back seats to protect your luggage/trunk area as shown in the last photo.
 DEMO & INSTALLATION: