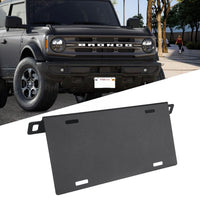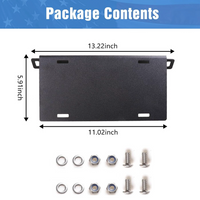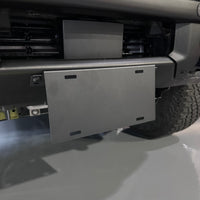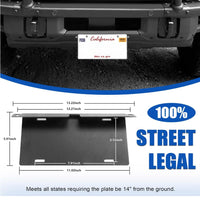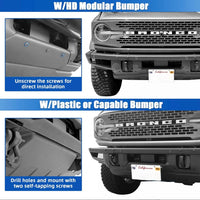 2021+ Ford Bronco Front Bumper Licence Plate Mount- Fits 2 & 4 Door
Description
This Front Bumper License Plate Mount is specially designed for the 2021+ Ford Bronco. This license plate cover is crafted for compatibility with the Ford Bronco 2021 and 2022 models equipped with the HD Modular Bumper, ensuring a seamless and stylish addition to your vehicle.


1. **Easy Installation:**
- The installation process is a breeze – simply direct bolt your license plate to the bracket and snap the holder in place. A straightforward solution is provided for vehicles with a plastic or capable bumper: drill 2 holes and utilize 2 self-tapping screws for a secure fit.

2. **Premium Material:**
- Engineered from high-quality aluminum alloy, our license plate bracket sets itself apart from others on the market. Unlike plastic alternatives, it boasts exceptional strength and resistance to bending. The durable black powder coating guarantees rust-free performance even after years of exposure to diverse weather conditions.

3. **Design:**
- Elevate the aesthetics of your Bronco by positioning the license plate under the steel bumper, seamlessly complementing the overall design. Not only does this installation enhance the beauty of your vehicle, but it also meets state requirements, ensuring the plate is 14" from the ground.

4. **Package Includes:**
- Each package includes a heavy-duty Bronco license plate frame bracket, along with 4 nuts and 4 bolts designed for secure license plate mounting. All components are thoughtfully included to streamline the installation process.

Upgrade your Ford Bronco's front bumper with RPM Bronco's Front Bumper License Plate Mount – a perfect blend of functionality, durability, and style. Drive confidently, showcasing a sleek and fashionable license plate frame that stands the test of time.
Warranty
This Product Features a Lifetime Warranty*.