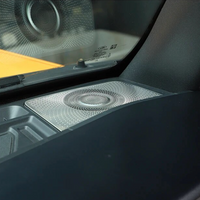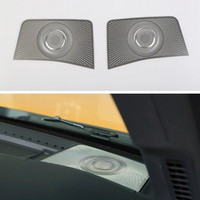 2021+ Ford Bronco Front Dashboard Left and Right Speaker Cover- Stainless Steel (2pcs) - Fits 2 & 4 Door
Description
Introducing RPM Bronco's Stainless Steel Look, Front Dashboard Speaker Covers designed exclusively for the 2021+ Ford Bronco. Elevate the interior of your Bronco with these precision-crafted speaker covers that seamlessly blend style and durability.
Features:
Stainless Steel Look: These speaker covers not only add a touch of sophistication to your Bronco's interior but also provide protection against wear and tear.

Perfect Fit for 2 & 4 Door Models: Engineered to flawlessly fit both 2 and 4-door Ford Broncos, these covers ensure a sleek and cohesive look across all variations of your vehicle.

Peel and Stick Installation: Transforming your Bronco's interior has never been easier. The RPM Bronco Front Dashboard Speaker Covers feature a hassle-free peel-and-stick installation. No need for complex tools or professional assistance – simply peel off the backing and stick them into place.

Secure Adhesion with 3M Double-Sided Tape: The covers come equipped with reliable 3M double-sided tape, ensuring a secure and long-lasting bond. This tape provides a strong adhesive grip while remaining removable, allowing for adjustments or repositioning as needed.

Removable Design: Want to change up your interior or revert to the original look? No problem. These speaker covers are designed to be easily removable without leaving any residue or damage behind.
Enhance the aesthetic appeal of your Ford Bronco's interior with RPM Bronco's Stainless Steel Look Front Dashboard Speaker Covers. Elevate your driving experience today with this sleek and durable upgrade.
Pair these with our trunk speaker covers for a complete look for your Ford Bronco.
Warranty
This Product Features a Lifetime Warranty*.