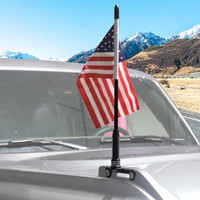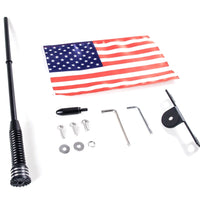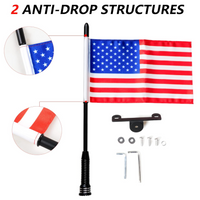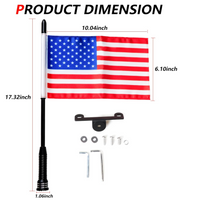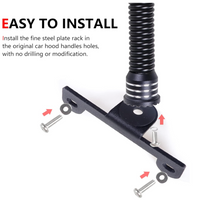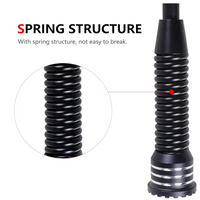 2021+ Ford Bronco Hood Flagpole - American flag - Fits 2 & 4 Door
Description
Introducing the 2021+ Ford Bronco Hood Flagpole - American Flag, the perfect accessory to showcase your patriotic spirit and elevate the style of your 2021, 2022, or 2023 Ford Bronco 2 Door or 4 Door.
Key Features:
Compatibility: The RPM Broncos Hood Flagpole is specifically designed for the 2021, 2022, and 2023 Ford Bronco 2 Door and 4 Door models, ensuring a perfect fit for your vehicle's exterior accessories. Not Bronco Sport
Premium Materials: Constructed with a heavy-duty aluminum spring structure, the flagpole mount kit provides unparalleled stability and strength during your adventures. The materials are not only durable but also resistant to corrosion, rust, and breakage, ensuring a long-lasting and reliable performance.
Vibrant American Flag: The included American flag is made from high-quality polyester, boasting vibrant colors that won't easily fade over time. Showcase your patriotism with pride as you hit the road, making a bold statement wherever your Bronco takes you.
Easy Installation: Say goodbye to complicated installations and modifications. The RPM Broncos Hood Flagpole is designed for hassle-free installation, without the need for drilling or any significant modifications. Simply attach the fine steel plate rack to the original hood trail sights holes for a quick and straightforward upgrade that gives your Bronco a fresh, new look.
Enhance Your Bronco's Style: Turn heads and make a statement with this eye-catching accessory. The American flag adds a touch of patriotism and personality to your Bronco, making it the perfect decoration to enhance your vehicle's overall aesthetic. Feel a sense of pride as you drive with the RPM Broncos Hood Flagpole waving the American flag on your hood.
Upgrade your 2021, 2022, or 2023 Ford Bronco with the RPM Broncos Hood Flagpole - American Flag, a must-have accessory for Bronco enthusiasts who want to combine style, durability, and patriotism in one package. Order yours today and hit the road in style!
Warranty
This Product Features a Lifetime Warranty*.