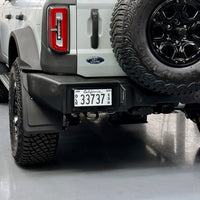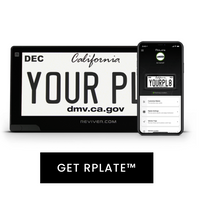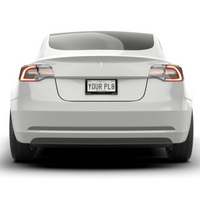 2021+ Ford Bronco - RPlate Reviver Digital License Plate (Legal in CA, AZ, & MI) - Fits 2 & 4 Door
Description
UPDATE:   As of December 20th, 2022  Reviver is no longer allowing automated E-commerce sales of this item.  We have to email you an invoice for $799, so please contact our customer service (949) 391-3188.
We are stocked up and can ship you immediately, or you can come in for installation.  Our price is lower than Reviver's MSRP, but we cannot share that with you unless you call us at 
Since we can't make this item for sale as a click-and-sell item.  Just reach out to us then we will send you an invoice.  We normally have promotions where we sell them for almost $100 less than the MSRP, and this includes your first year of fees as well   
This is the internal battery version which has a 5-year warranty. There is a QR code in the box that helps you install the app and proceed with activation directly with RPlate. 
Digital license plates are here to stay in California.
The passage of AB-984 enables all vehicle owners in California to utilize Reviver's suite of products as alternatives to conventional license plates, stickers, tabs, and registration cards issued by the California DMV.
 States Currently Approved by the DMV:
Arizona, California, Michigan
Rplate Non-Wired Battery Powered Basic Version:  The standard Basic RPLATE has a 5 year battery and is not connected to your car's battery nor is it connected to the internet.  This is recommended for Bronco customers.
There are many great features of this beautiful-looking license plate replacement.
First, no more replacing of your Month and Year corner stickers each year. Second, can make the background of the plate black or white, opposite of the plate letters. Third, you also can customize the bottom of the plate with a choice of text catchphrases, or you can register your own catchphrase.
Other Rplate Advantages Include:
Sleek Black and White look.

Future DMV visits are eliminated for renewals

Theft Proof

5 Year Battery

Simple Self Installation
NOTE:
There are Annual Fees for the RPLATE. It is $55 the first year, RPM's price includes this and for subsequent years you will pay Reviver directly through their app.
The proprietary technology makes the Rplate is virtually theft-proof. All data is encrypted and signed, there are no external ports, all components are sealed and motion detection sensors provide alerts to tampering.
Extremely difficult to remove in the first place; if removed, their display reads "Detached" and cannot be altered. Should the unlikely happen, both plates have the ability to display "STOLEN" after discovery.
Rplates' road-ready designs endure weather extremes and harsh driving conditions. With a lens 5X stronger than glass and a composition of fire-proof UL 94 plastics; Rplate's performance has exceeded expectations in our own punishing tests, including exposure to temperatures of -40 to 176 degrees Fahrenheit and multiple impact and crash tests. Regardless of the severity of the damage, Rplate's display continued to hold its image. Its extreme durability allows it to thrive in almost any circumstance.
  Waterproof
Rplates are sealed against water intrusion at the component level. Launching or pulling a boat out of the water? Rplate and Rplate Pro are ready to submerge at your command.
  Desert Proven
Rplates are already on the road in Arizona looking as hot as they actually are. They thrive in the Sonoran sun.
Zero Freeze Factor
California's Sierras see serious snow. Rplates in Lake Tahoe dig out of deep snow fully functional and looking hot - even when things are seriously cool.
RPlate
Monochromatic HD Display, Replaceable Battery Powered*, Quick and easy installation. Plate Personalization, Smart Registration Renewal, Bluetooth Low Energy, 10m range (line of sight)   LTE for Low power IoT
DEMO: